Live the Zagori Mountain Running experience!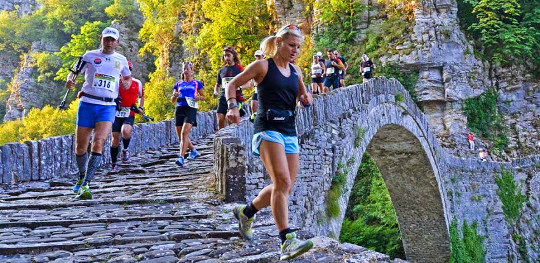 Zagori Mountain races began in 2011, and they were "built" on the idea of mapping a trail route in the area, which could actually support a mountain race. The route was marked, and the second stage to follow was the implementation of the race that would be called the first Zagori Mountain Running. Beyond all expectations, registrations exceeded the initial target! The feedback of the participants, the very first moving moments and the warm welcome of the local community, filled us with strength and courage to go on with the project in the following year.
In 2014 registrations reached up to 1.700, in 2016 up to 1.900, while in 2017, a turning point for the ZMR, registrations outreached  2.000, showing a significant number of athletes from 40 different countries.
From its early years, Zagori Mountain Running  has won the hearts of athletes and friends, making this trail event very special and popular. Of course, the reasons are many, explaining why ZMR has become a leading trail event in Greece. First of all, ZMR offers multiplicity, different levels of difficulty and a wide range of terrain. Every athlete, every person can find the race that suits them best, or even try a new challenge, since there are four (4) categories available, covering distances from 10 to 80km. Ideal start is the Entry Race of 10km for new comers in the trail running. The kids' race called "Zagoraki" concludes the age group, offering to the families the chance to spend quality time altogether, sharing common activities in combination with a summer holiday in Zagorochoria, in Epirus, by the end of July.
It has been written that "one life is not enough to experience Zagori", yet it's true. The 46 villages known for their architecture and their outstanding natural beauty, their stone bridges of the famous Epirotic craftsmen, the Vikos canyon, the Vradeto steps, the Voidomatis river, the churches, the mansions, the rich biodiversity, all these captivate the visitor and at the same time give the athletes the thrill and the energy to make it to the finishing line.
Zagori Mountain Running manages with total respect this significant heritage. Our main concern is that all the participants, their friends, the visitors, inspired and delighted of what they have just experienced, make a promise to return!