The rejuvenation of the athletes!
Running especially when that includes long distances, time and effort is inextricably intertwined with energy intake. The importance of energy intake during an ultra marathon, for those who have such great racing experience, seems to be the key for a desired result, which focuses not only on performance but also on pleasure offered by the race and yet avoiding the phenomenon of survival. Basic rationale of the group responsible for the supply of our race is to provide participants with a variety of flavors, satisfying even the most demanding requests. The selection of various food items for the refreshment stations is based on specific guidelines that allow athletes to meet their energy needs. Particular emphasis is given on energy coverage for novice runners, who can participate without dietary protocol, preventing energy loss that could arise from the lack of racing experience. The proposed selection and placement of items provided in the refreshment stationss designed to meet energy needs in accordance with international recommendations and the relevant scientific literature.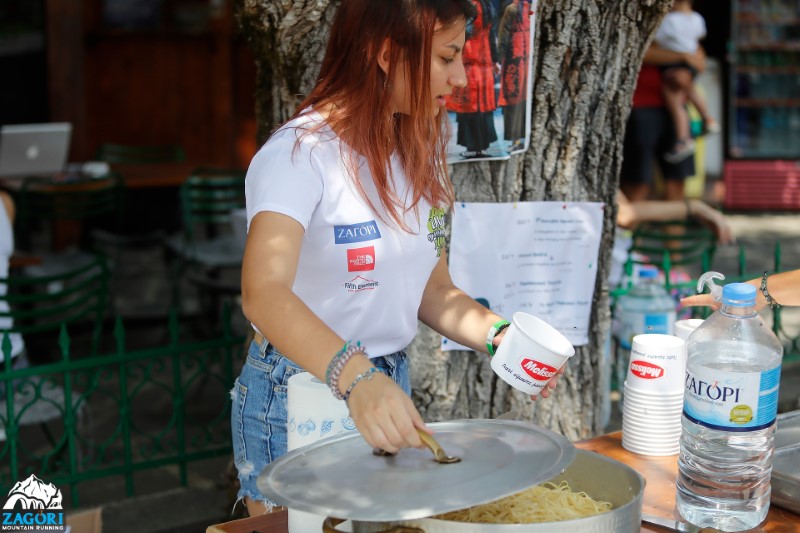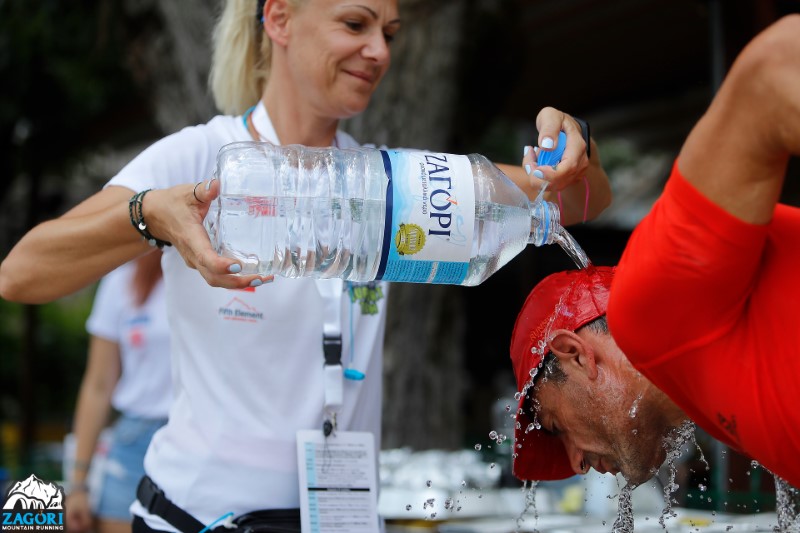 Each mountain race is unique, yet each and every athlete is unique. The intra-individual differences among athletes are numerous and so are their needs. Thefort to satisfy them, at least at the energy level is an incentive for all of us. The selection of the particular food items for the refreshment stations was based on our personal engagement with sport nutrition and the creation of similar protocols for our athletes. Your views and feedback on this issue were also taken into consideration.
Refreshment Stations of TeRA 80km
Distance (km)

C.E.G.

Location

Station / Checkpoint

ZAGORI natural mineral water

Isotonic Drink

Nomad Honey Gel

Bar

Cake

Dried fruit

Salty

Cola

Dole Banana

Pasta

Sandwich with cheese

6,5
+600m
STANI
11
+1200m
AVALOS
23
+1600m
STOMIOU MONASTERY
Elim. Point:
5 hours
31
+2700m
PLATEAU OF LAKES

Checkpoint

32,5
+2900m
DRAGON LAKE

Checkpoint

34
+2900m
PLATEAU OF LAKES

Checkpoint

37
+3100m
ASTRAKA REFUGE
44
+3150m
MIKRO PAPIGO
Elim. Point:
9.5 hours
48
+3170m
VOIDOMATIS SPRINGS
55
+3400m
KLIMA
58
+3750m
MONODENDRI STEPS
60
+4000m
MONODENDRI
Elim. Point:
14.5 hours
62
+4060m
VITSA

Checkpoint

66
+4180m
DILOFO

Checkpoint

70
+4250m
KIPI
Elim. Point:
16.5 hours
74
+4740m
KAPESOVO
78
+5230m
TSEPELOVO STEPS
Refreshment Stations of Marathon+ 44km
Χλμ

Σ.Θ.Υ.Δ.

Τοποθεσία

Σταθμός / Checkpoint

Φυσικό μεταλλικό νερό ΖΑΓΟΡΙ

Ισοτονικό Ρόφημα

Τζελ Nomad Honey

Μπάρα

Κέικ

Αποξηραμένα φρούτα

Αλμυρά

Cola

Μπανάνα Dole

5.5
+303μ
ΚΑΠΕΣΟΒΟ

Checkpoint

12
+489μ
ΚΛΗΜΑ
19
+586μ
ΠΗΓΕΣ ΒΟΪΔΟΜΑΤΗ
23
+1100μ
ΜΕΓΑΛΟ ΠΑΠΙΓΚΟ

Elim. Point:
4.5 ώρες
30
+1900μ
ΚΑΤΑΦΥΓΙΟ ΑΣΤΡΑΚΑΣ
33.2
+2150μ
ΛΙΜΝΗ ΡΟΜΠΟΖΙ
37
+2300μ
ΚΡΟΥΝΑ
40
+2560μ
ΑΥΓΕΡΙΝΟΣ
42
+2590μ
ΣΚΑΛΑ ΤΣΕΠΕΛΟΒΟΥ

Checkpoint
Refreshment Stations of Marathon+ 44km
Χλμ

Τοποθεσία

Φυσικό μεταλλικό νερό ΖΑΓΟΡΙ

Ισοτονικό
Ρόφημα

Τζελ Nomad Honey

Μπάρα

Κέικ

Αποξηραμένα
φρούτα

Αλμυρά

Cola

Μπανάνα Dole

4
ΠΕΡΔΙΚΟΝΕΡΙ
10
ΚΗΠΟΙ
14.5
ΚΟΥΚΟΥΛΙ
17
ΚΑΠΕΣΟΒΟ
19
ΣΚΑΛΑ ΤΣΕΠΕΛΟΒΟΥ
Refreshment Stations of Entry Race 10km
| Χλμ | Τοποθεσία | Φυσικό μεταλλικό νερό ΖΑΓΟΡΙ |
| --- | --- | --- |
| 4 | ΙΕΡΑ ΜΟΝΗ ΡΟΓΚΟΒΟΥ | |
| 8 | ΣΚΑΛΑ ΤΣΕΠΕΛΟΒΟΥ | |